ECO PER®formance Non Slip
Table Mat and Coaster Sets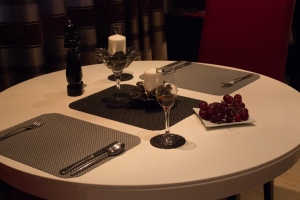 StayPut by Isagi ECO PER®formance Table Mat and Coaster sets are made of the same clever, versatile fabric as the StayPut ECO PER®formance rolls, pre-cut into a set of 6 generously sized, rounded rectangle placemats and 6 circular coasters.

PER®formance Table Mat & Coaster sets maintain all the features and qualities of the unique pressure sensitive, non slip PER®formance fabric, pre-cut into large tablemats with rounded corners and matching circular coasters.
As a Food Grade accredited fabric it is safe to use anywhere where food can come into contact with the material as there are no harmful substances that can leach into food through contact unlike typical non slip PVC placemats, and unlike most smooth surfaced mats, if there are any spills, PER®formance fabric still retains its non slip qualities when wet.
Lightweight, durable, easy to clean and safe to use on all surfaces, Food Grade and toxin free they are UV stable and Machine Washable @ 40° degree C and quick to dry, the generously sized mats come in a range of 9 attractive colours.
FEATURES
Set of 6 Tablemats & 6 Coasters
Non adhesive, non slip even when wet!
Food Grade
Toxin free and non allergenic
Fire Retardant and UV stable
Biodegradable
Safe on all surfaces, including Polyurethane paint or varnish
Hygienic and easy to clean. Machine Washable 40°
SPECIFICATIONS

Oeko-Tex Standard -100 Product Class 1 (for baby articles) – TPVO 043943
FDA Certified United States FDA Testing Standards SGS CY-2007 – 10529B. Food Grade.
Phthalate Free – Does not contain PVC or Toxic Metal. SGS UG-2008-20035
RoHS Standards – SGS - CE-2009 – C8168
European Commission (EC) – REACH
Biodegradable - PIDC Test 2009-11-03
Toxic Heavy Metal Free – SGS UG-2008 – 20035A -03
European Union PAHS Subject Content Standards. TUV 113073454
Japan ST Toy Safety Testing Standards – 070202052-4
Please click here for PER®formance Materials Technical Specification for Certification and Accreditation
Please click here for PER®formance Materials Technical Data Sheet
ORDERING INFORMATION
PER-TC-PW
Pearl White
PER-TC-A
Almond
PER-TC-T
Taupe
PER-TC-G Dove Grey
PER-TC-EB
Electric Blue
PER-TC-IB
Indigo Blue
PER-TC-YEL Mimosa Yellow

PER-TC-RED

Chilli Red

PER-TC-FG
Forest Green
| | | | | | |
| --- | --- | --- | --- | --- | --- |
| Item | UPC Code | Size | Mat Size Metric | Coaster Size Metric | Carton Qty |
| Pearl White | PER-TC-PW | 12" x 15" | 30cm x 40cm | 10cm dia. | 6 |
| Almond | PER-TC-A | 12" x 15" | 30cm x 40cm | 10cm dia. | 6 |
| Taupe | PER-TC-T | 12" x 15" | 30cm x 40cm | 10cm dia. | 6 |
| Dove Grey | PER-TC-G | 12" x 15" | 30cm x 40cm | 10cm dia. | 6 |
| Electric Blue | PER-TC-EB | 12" x 15" | 30cm x 40cm | 10cm dia. | 6 |
| Indigo Blue | PER-TC-IB | 12" x 15" | 30cm x 40cm | 10cm dia. | 6 |
| Mimosa Yellow | PER-TC-YELL | 12" x 15" | 30cm x 40cm | 10cm dia. | 6 |
| Chilli Red | PER-TC-RED | 12" x 15" | 30cm x 40cm | 10cm dia. | 6 |
| Forest Green | PER-TC-FG | 12" x 15" | 30cm x 40cm | 10cm dia. | 6 |