ECO PER®formance Antimicrobial Slip
Resistant Wetroom Matting
with Silver Technology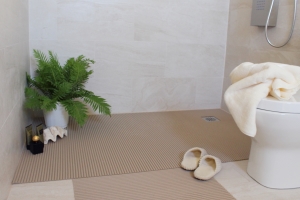 The introduction of more wetrooms, walk in showers, and hot tubs, has left many people with the problem of finding a slip resistant bath or shower mat that will be big enough to cover the large area.

If the shower or wet room has a non slip surface already in place, a bath mat with suckers will not stick to the uneven floor or non slip surface, so here's a good alternative.

The NEW ECO PER® Antimicrobial slip resistant Wetroom matting is
made of the same soft, lightly textured, ridged PVC foam as the StayPut bath & shower mats, but can be cut to fit the floor area that you need.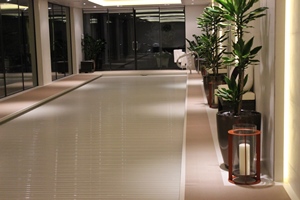 Silver technology is now being widely used as an additive in the manufacturing of materials, for its antimicrobial qualities. The Isagi Wetroom matting has been manufactured using this silver technology throughout the material, not just as a surface treatment, to inhibit growth of bacteria or mould.

Free draining and easy to cut and lay, the matting has been made from PER® (Polymer Environmental Resin) which is OEKO-TEX Standard 100, Non Toxic (contains no heavy metals, Phenols or Phthalates), and is rubber and latex free.
FEATURES
Both the mat and suckers are manufactured from the unique PER® material combined with an antimicrobial 'Silver' additive which actively inhibits mould and bacterial growth.

Soft and Comfortable

Tough and durable

Excellent drainage and quick drying

Easy to cut and lay

Non-allergenic – Rubber and Latex free

Machine washable @40° degrees

Oeko-Tex® Level 1 - Oeko-Tex® standard 100 is based upon the principle that babies and toddlers need special protection, therefore Class I: for baby articles is the highest level. StayPut Performance fabrics have been tested according to Oeko-Tex 100, this certifies that they contain no hazards to health, skin or the environment

Toxin and Heavy Metal free

Contains no phenols or phthalates



SPECIFICATIONS

Oeko-Tex Standard -100 Product Class 1 (for baby articles) – TPVO 043943
FDA Certified United States FDA Testing Standards SGS CY-2007 – 10529B. Food Grade.
Phthalate Free – Does not contain PVC or Toxic Metal. SGS UG-2008-20035
RoHS Standards – SGS - CE-2009 – C8168
European Commission (EC) – REACH
Biodegradable - PIDC Test 2009-11-03
Toxic Heavy Metal Free – SGS UG-2008 – 20035A -03
European Union PAHS Subject Content Standards. TUV 113073454
Japan ST Toy Safety Testing Standards – 070202052-4
Please click here for PER®formance Materials Technical Specification for Certification and Accreditation
Please click here for PER®formance Materials Technical Data Sheet
ORDERING INFORMATION
| | | | | |
| --- | --- | --- | --- | --- |
| Item | UPC CODE | Size | Size Metric | Carton Qty |
| Antimicrobial Wetroom Matting Taupe | PER-WRM-100 | 39.3" x 39.3" | 100cm × 100cm | 12 |
| Antimicrobial Wetroom Matting Taupe | PER-WRM-200 | 39.3" x 78.7" | 100cm × 200cm | 8 |
| Antimicrobial Wetroom Matting Taupe | PER-T-WRM-90-20M | 36" x 65.6' | 90cm x 2000cm | 1 |
| Antimicrobial Wetroom Matting Taupe | PER-T-WRM-130-20M | 51" x 65.6' | 130cm x 2000cm | 1 |