Non-slip Supersize Bath/Shower Mats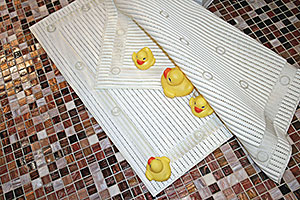 The StayPut Supersize Non-Slip Bath/Shower mat is a top quality tough and durable bath or walk-in shower mat.
Designed to fit a large bath or walk-in wet room / shower. It is made of a lightly textured, ridged, PVC foam, so it feels soft, cushioned, warm and very comfortable whilst still helping to prevent slipping.
The Supersize Bath/Shower mat is secured in place with moulded suckers on the underside for a strong grip, but still retains excellent draining capability.
StayPut Bath/Shower mats are manufactured from a mould and mildew resistant fabric which is suitable for machine washing, the supersize bath mat is in a class of it's own.
ORDERING INFORMATION
| | | | | |
| --- | --- | --- | --- | --- |
| Item | UPC CODE | Size | Size Metric | Carton Qty |
| White | Not currently available | 23.25" x 31.25" | 59.5cm × 79.5cm | 6 |
| Blue | SSBMB | 23.25" x 31.25" | 59.5cm × 79.5cm | 6 |