ECO PER®formance Twister Grips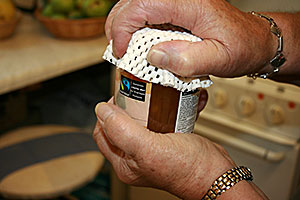 The StayPut PER® (Polymer Environmental Resin) is an eco friendly patented material which offers a flexible range of fabrics and matting that is ideal for domestic and commercial use.
PER®formance Twister Grips are a pack of 4 non-slip circular discs, designed to cushion surfaces and improve hand traction and grip.
Whether it is opening a stubborn screw top lid or using a screwdriver or other hand tool, a twister grip is non-abrasive, soft and comfortable to use in the palm of your hand, durable, long lasting and washable.
They are also useful as a protective mat under pots, vases or table lamps to reduce scratching or marking on windowsills, painted or wood surfaces.
The StayPut ECO PER®formance fabric is made from a non toxic resin which is free of rubber and latex, odour free and does not emit any toxic chemicals or gases, the polymer environmental resin is melded onto a mesh, supported by polyester fibres resulting in an open weave construction. The mat has been successfully tested against harmful substances; Oeko-Tex Standard 100- Product Class 1(for baby articles).
Colours Available: Pearl White, Almond, Indigo Blue & Black
FEATURES
Pack of 4 non-slip circular cushioned discs
Food safe
Non Toxic
Rubber and latex free
Improves grip when removing stubborn or tight lids
Can be used to aid grip with screwdrivers or other tools
Under plant pots, protects windowsills from marking and scratching
Protects stacked china when used between plates or dishes, to stop chipping and marking
Contains no latex or rubber
Biodegradable
Washable
COLOURS AVAILABLE:
| | | | |
| --- | --- | --- | --- |
| Pearl White | Almond | Indigo Blue | Black |
SPECIFICATIONS

Oeko-Tex Standard -100 Product Class 1 (for baby articles) – TPVO 043943
FDA Certified United States FDA Testing Standards SGS CY-2007 – 10529B. Food Grade.
Phthalate Free – Does not contain PVC or Toxic Metal. SGS UG-2008-20035
RoHS Standards – SGS - CE-2009 – C8168
European Commission (EC) – REACH
Biodegradable - PIDC Test 2009-11-03
Toxic Heavy Metal Free – SGS UG-2008 – 20035A -03
European Union PAHS Subject Content Standards. TUV 113073454
Japan ST Toy Safety Testing Standards – 070202052-4
Please click here for PER®formance Materials Technical Specification for Certification and Accreditation
ORDERING INFORMATION
| | | | | |
| --- | --- | --- | --- | --- |
| Item | UPC Code | Size | Size Metric | Carton Qty |
| Twister Grip - Pearl White | PERTG-PW-4 | 5.5" dia. | 14cm dia, 4 Per Pkt | 20 |
| Twister Grip - Almond | PERTG-A-4 | 5.5" dia. | 14cm dia, 4 Per Pkt | 20 |
| Twister Grip - Indigo Blue | PERTG-IB-4 | 5.5" dia. | 14cm dia, 4 Per Pkt | 20 |
| Twister Grip - Black | PERTG-B-4 | 5.5" dia. | 14cm dia, 4 Per Pkt | 20 |