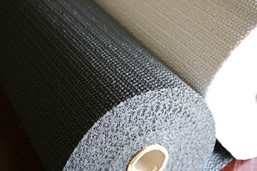 Isagi customers can rest easy if they purchase the award-winning
company's non-slip product– because the fabric is specially designed
to stop mattresses slipping off bed bases.
The unique patented non-slip Performance PER® is used in bed
manufacture and is also ideal for wooden and slatted bed bases as
well as futons to stop mattresses slipping or moving. It can simply be
laid flat on the bed base or sewn to the underneath of the mattress
or sonic welded.
And now the material, the StayPut 1.4mm ECO PER®, comes with an added advantage after recently being successfully tested to British Standards. It conforms to BS EN597-1&2:1995 which covers fabrics tested over both Fire Retardant (FR) and non-Fire Retardant (non-FR) foam.
While Isagi knew its material included a fire retardant, and was confident that it would pass the stringent BS standard, Managing Director Andrew Guilbert said: "We are delighted that the fabric has passed the BS EN standard, as this gives our customers the confidence and re-assurance that is so important in this area."
The fabric is used by upholsterers and chair or sofa manufacturers. When sewn or sonic welded to the underside of seat pads or cushions, it prevents slipping or sliding. It is also widely used in the mobility sector for around the home to prevent cushions on sofas or inclined bed mattresses from moving and for wheelchair users
In addition, the fabric has the attraction of being OEKO-TEX 100-Level 1 (safe for baby articles), phthalate free. It does not contain PVC or Toxic Metal.
Read full article here in Tradepoint Magazine