StayPut PER®formance
Fly & Bug Screen Netting Mesh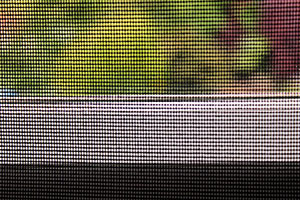 StayPut PER®formance Drain Cloth, Fly/Bug Screen Mesh
Performance Drain Cloth/Fly/Bug screen mesh is manufactured using PER® technology, the strong, robust mesh is manufactured from a 100% polyester mesh coated in PER®.
A light open weave mesh, suitable for use in drain cloth applications, and for use as sunshade material, cover inserts, awnings or for outdoor cushions, window and door screens, and vegetable protection. The mesh allows air and wind through to circulate and is see-through.
The mesh comes in a 0.44mm depth and weighs 103grams per square metre, with a mesh of 21 x 16 holes per linear inch.
Easily cut with scissors to size and shape, it can be stapled, nailed or sewn, and is washable at a temperature up to 120 degrees. The mesh is also importantly UV stable and Fire Resistant.

Its flexibility allows it to be used anywhere where you want to prevent against bugs, flies and insects i.e. screening doors and windows, in homes, boats, caravans, in the garden to protect crop vegetation or across greenhouse windows or doors.
Colour: Black
FEATURES
Lightweight, flexible, tough and hardwearing
0.44mm depth. Weight: 103grams per sq mtr
Mesh size: 21 x 16 holes per linear inch.
Food Grade quality
Heat resistant to maximum of 120°C
Washable in up to 120°C
Easy to clean
Toxin free and non allergenic
Fire Retardant and UV stable
Biodegradable
Suitable for both Domestic and Commercial applications
Can be easily cut and shaped
Can be stapled, nailed or sewn
SPECIFICATION

Oeko-Tex Standard -100 Product Class 1 (for baby articles) – TPVO 043943
FDA Certified United States FDA Testing Standards SGS CY-2007 – 10529B. Food Grade.
Phthalate Free – Does not contain PVC or Toxic Metal. SGS UG-2008-20035
RoHS Standards – SGS - CE-2009 – C8168
European Commission (EC) – REACH
Biodegradable - PIDC Test 2009-11-03
Toxic Heavy Metal Free – SGS UG-2008 – 20035A -03
European Union PAHS Subject Content Standards. TUV 113073454
Japan ST Toy Safety Testing Standards – 070202052-4
Please click here for PER®formance Materials Technical Specification for Certification and Accreditation
ORDERING INFORMATION
| | | | | |
| --- | --- | --- | --- | --- |
| Item | UPC Code | Size | Size Metric | Carton Qty |
| Black | MN-142-B-Bulk | 55.9" x 164' | 142cm x 5000cm | 1 |