Non-Slip Heavy Duty Professional Bulk Rolls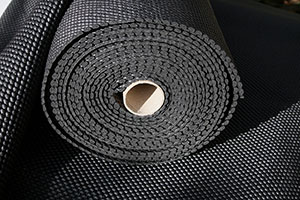 Isagi Heavy Duty Professional is a non-slip fabric that can be used in all areas that need a deeper density protection and to withstand tough treatment.
Isagi Heavy Duty Professional is made of a thick 4mm non-slip foam melded into a strong PVC mesh, supported by polyester fibres. The unique manufacturing process produces a robust sponge like fabric which doesn't stretch, stick or rip, but will grip effectively on both sides.
Cushioned and hard wearing, it protects surfaces, reducing chipping and scratching, but still allows air and moisture to circulate.
Machine Washable @ 40 degrees
The Bulk Roll size is: 140cm width x 15 mtrs
FEATURES
So why use StayPut Heavy Duty Professional?
Non-Slip - Simply, it helps prevent items from moving or sliding, on the workbench reducing the need for clamps, in the toolbox to stop tools sliding around, or on the floor of a car or van. The open weave structure is also free draining, making the fabric an effective non-slip surface even when wet.
Non-Stick - Grips without sticking, both the top and bottom surface
Cushioned and soft - Nice to handle, as well as giving a protective barrier to surfaces reducing chipping and scratching
Can be sewn – Ideal for applications where the fabric is to be integrated with other materials.
Bulk Rolls – Provide greater flexibility for volume / commercial users.
Machine Washable - Can be kept clean, fresh and stain free 40°
Easily Cut, and available in different widths - Can be cut to fit any shape and size, from a tool box tray to a workbench
Open weave structure - Allows for air circulation and free draining
Mould and mildew resistant - Hardwearing and long lasting
Isagi Professional is highly versatile and can be used virtually anywhere you need to protect surfaces or stop slippage.
The only limitation is your imagination, see the 'ideas for use page' as your starting point, and please feel free to email us with your own suggestions.
ORDERING INFORMATION
| | | | | |
| --- | --- | --- | --- | --- |
| Item | UPC Code | Size | Size Metric | Carton Qty |
| Heavy Duty Black | HDB90060-55BULK | 55" x 49' | 140cm x 1500cm | 1 |